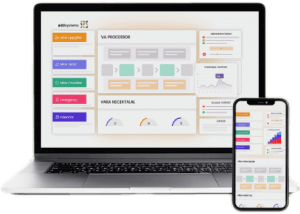 Trade and services
A tool to easily manage, plan, control, analyze and improve operations
Work from anywhere
In the service and service sector, versatility in a solution is important, and the ability to work collaboratively even when geographically dispersed. Add enables this by allowing you to work from anywhere as long as you have your mobile phone, computer, or tablet.
Add can serve as a comprehensive management system in areas such as quality, environment, and occupational health and safety for the service and service sector. However, you can also choose to use only a specific solution. The possibilities in Add are vast, and we are eager to help you find the right solution for you!
We are active in these areas
Commerce
Add can be of great benefit in the field of commerce in several ways. It can involve customer administration for tasks such as complaint management or serve as a comprehensive management system.

Hotels
In the hotel sector, Add is used as a property portal, which entails various applications. An example is handling maintenance requests with reporting and photographing of issues via smartphones in a case workflow. When it comes to cost compilation and presentation, inspection costs, planned and unplanned maintenance, as well as service agreements, are useful add-on solutions in Add.

Services
In the service sector, Add is used not only as a comprehensive management system but also for customer administration, such as handling complaints, in the field of commerce

IT
The strict and seamless information management in Add is of great benefit in the financial sector. Therefore, we have developed a complete solution for customer documentation to facilitate meetings between clients and advisors, as well as the entire handling of customer information and confirmation. We aim to meet the requirements set by the Financial Supervisory Authority.
In combination with customer documentation, we can also offer a solution for prospect processing until completion, with the possibility for prospects and clients to access their designated area in the customer's Add solution.

Education
The strict information management, combined with our capabilities for checks and inspections directly on mobile devices, makes Add well suited for this sector.